Live, love, eat, laugh, play, sing and have fun…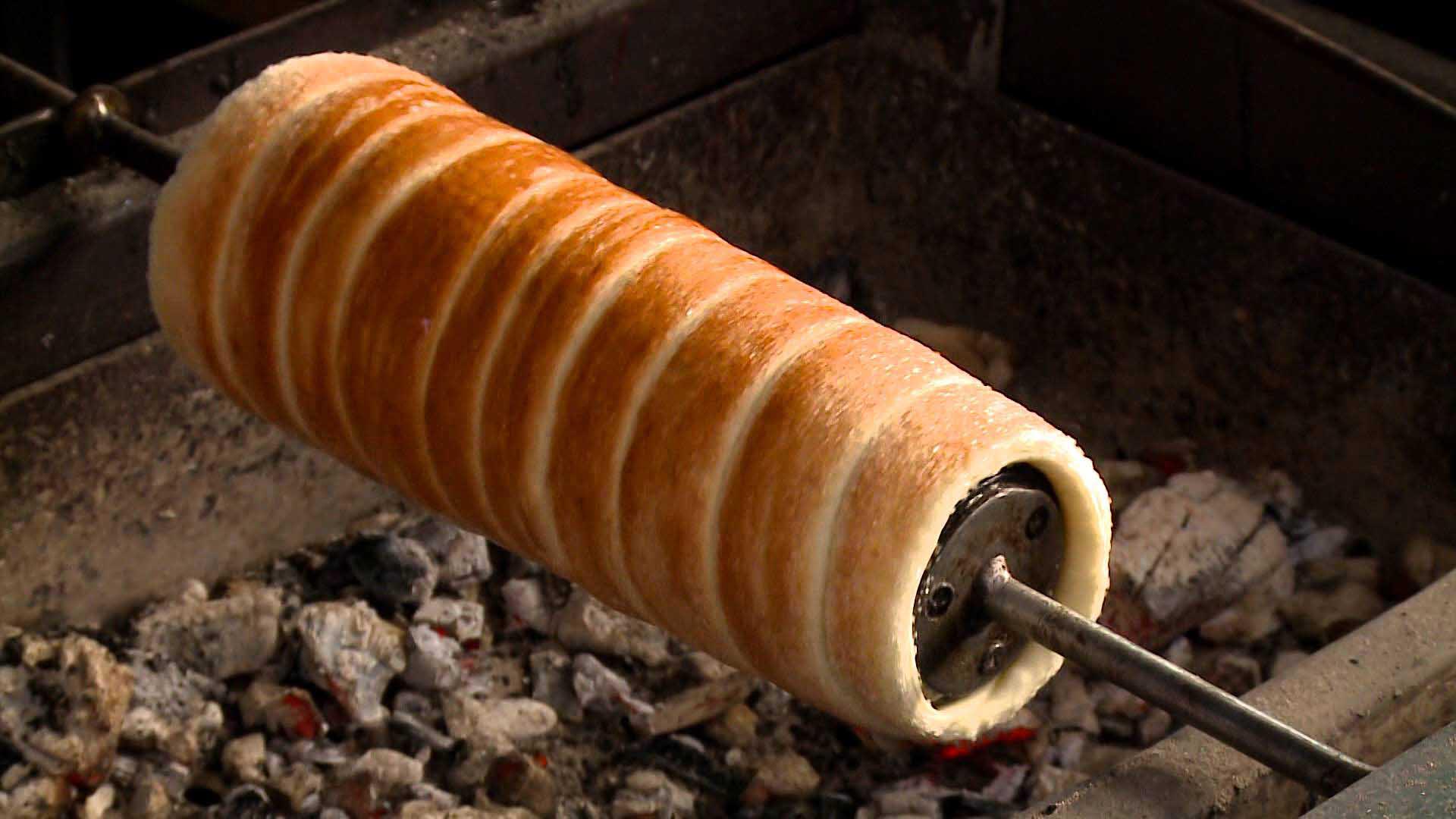 Most countries have a favourite or national dessert. Popular and loved by residents and forming part of a country's identity, they are an essential experience for visitors and tourists! In Hungary we have the kürtőskalács (chimney cake), a traditional old Hungarian style dessert represents a mix of unique ingredients and unusual way of backing.
There is a lot to love about the chimney's cake. It is sweet, delicious, gorgeous looking, fascinating to watch it made in front of you, an appropriate dessert for every season and perfect for special occasions.
In 10 years we have grown our business from nothing to a successful company with great profit margins, happy employee's and happy customers.
We are young Hungarians entrepreneurs with a deeply rooted passion for baking the best tasting cakes, we love what we do, and how we do it to create great value for our customers. Our approach is very simple: Use fresh ingredients, use the best techniques, and stay focused on the small details. It's really about getting the details right…………. right oven, tools, dough, garnish, presentation, colour, texture and freshness.
Today, we deliver our fresh cakes to a number of café's, fast food chains, restaurants, schools, hotels, hospitals and retailers within Hungary. We even extend our services to provide daily fresh chimney cakes to over 1000 company at their places, our client list includes some of the Hungary's most respected companies, such as Nissan, Citibank, ERSTE BANK, VODAFONE, etc.
WHAT WE DO
OVENS AND ACCESSORIES
We design and manufacturer our own ovens and all the special parts and equipment we use in the process in house with the utmost care. Every oven is crafted and assembled by hand using only the highest quality parts and products. We offer our customers the exclusive advantage of purchasing reliable, long lasting and cost effective solutions all from ONE manufacturer.
PRODUCT IMAGE
FEATURES
PRICE
1.

Electric oven forr 8 rolling pins

Price includes: number of pins: 16

Dimensions: 638mm*276mm*530mm

Weight: 21.6 kg

Power consumption: max. 3150 W

Electrical voltage: 230 V or 110 V

1290€
2.

Gas oven for 8 rolling pins

Price includes: number of pins: 16

Dimensions: 508mm * 585mm*460 mm

Weight: 28.4 kg

One 11.5 kg LPG cylinder is enough for about 250 cakes

1345€
3.

Rolling pin holder for electric ovens

Suitable for storing 15 rolling pins.

Comes with tray

Dimensions: 507mm*400 mm*400mm

Weight: 3.5 kg

95€
4.

Rolling pin wall rack

Suitable for storing 16 rolling pins

Dimensions: 952mm*504*87mm

Weight: 4.1 kg

105€
5.

Rolling pin normal size

Length 490mm,

Diameter: 47-52mm

Weight 0.52 kg

11€
6.

Rolling pin for small cakes

Length 490mm,

Diameter: 30 mm

Weight 0.41 kg

10€
7.

Fermenting box for 20 rolling pins

Dimensions: 900mm * 500 mm* 550mm,

Weight: 23.5 kg

735€
8.

Cutter

Dimensions: 43mm*350mm*225mm

Weight: 0.8 kg

45€
9.

Party cutter

Dimensions: 43*350*225mm

Weight: 1.1 kg

55€
All prices are calculated on the basis of EXW – Budapest - HUNGARY
MIXES
We are responsible for milling our own flour, preparing our own dry baking mixes, baking, packaging and distributing at our own facility in Budapest. We provide to chimney cakes kiosk owners across Hungary and abroad. Our largest market is Hungary and Germany, but we supply several customers in Mexico and Canada, Australia, KSA and the UAE.
You can find below the list of our most popular mixes:
No
Type
Pcs of cakes (220g) / bag
Net weight per bag
price in Euro
1.

SWEET WITH POWDERED YEAST,

you must add only water and oil
67
10 kg
14.6
2.
SWEET WITHOUT POWDERED YEAST, you must add yeast, oil and water
68
10 kg
14.0
3.

SALTY WITH POWDERED YEAST,

you must add only water and oil
74
10 kg
14.6
4.
SEMI – SWEET WITH POWDERED YEAST, you must add only water and oil
67
10 kg
14.6
5.

SWEET- FITT,

whole wheat flour, reduced sugar

70
10 kg
22.5

⦁ One pallet contains 68 bags
⦁ The mixes contain no additives, egg, milk, and products of animal origin (except for the sweet, essence mix).
⦁ All prices are calculated on the basis of EXW – Budapest - HUNGARY
BAKERY TRAINING - ON SITE:
This one-day course has been developed to deliver an understanding of the technical and practical aspects of the ingredients and processes involved in baking the chimney cake from A to Z. Our in-house chef patiently and proficiently will guide you and teach all the knowledge behind the products and why each step can make a difference to the final quality.
Usually the training take place in our bakery, but if you are too busy to release staff for overseas training, we can arrange for our trainers to deliver our courses at your place.
The training covers the technical and practical aspects of the dough making, recipes, ingredients function and process effect, through theoretical and practical training.
At the end of the training delegates will:
⦁ Be able to make a wonderful chimney cake
⦁ Have all the knowledge and techniques on baking bread from kneading, rolling and baking the dough
⦁ Know how to handle orders in the peak and off peak hours
⦁ Be aware of ingredients function and recipe construction
⦁ Have an understanding of each of the basic processing steps
⦁ Be able to spot problems and understand the most likely causes
⦁ Understand how ingredients and processes can influence the quality of baked products
⦁ Develop an understanding of the ingredient along with issues regarding to shelf-life and storage.
Training fee:
At our site: 250 EUR + VAT
At your site: 250 EUR + cost of travelling and accommodation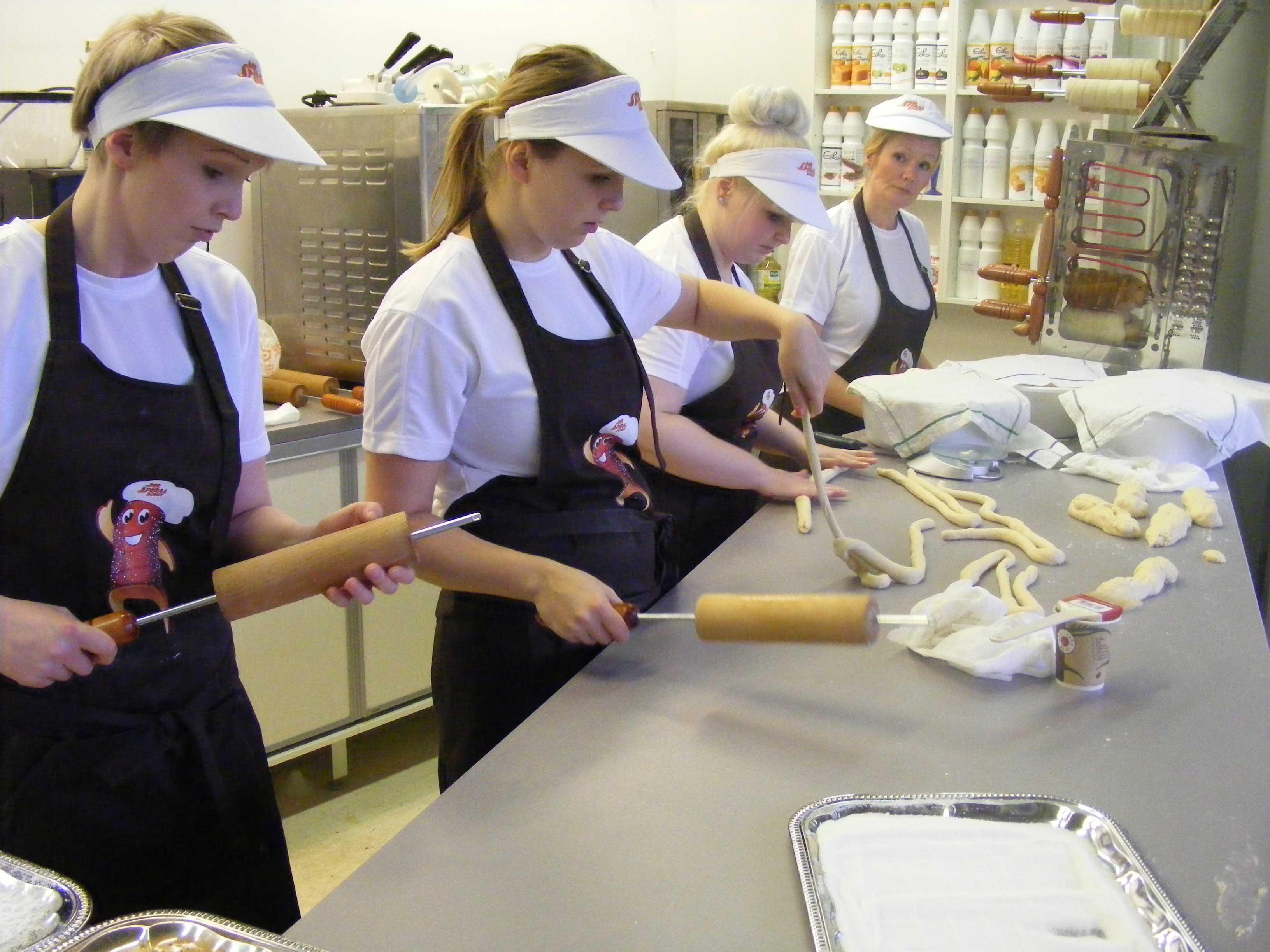 Take advantage of our offer and start your own chimney cake business in your country by using our offering
Email or call us today
Reklámhordozók Kft. Hungary
1147 Budapest, Telepes utca 88., Hungary
Mobile: 0036 20 985 8860
E-mail: bango@kurtosmester.hu